The Unapologetic Woman Conference
May 3, 2022 @ 1:00 pm

-

May 5, 2022 @ 2:00 pm

CDT
The Unapologetic Woman Conference | May 3-5, 2022
What does it mean to be unapologetic? Join our online conference for 3 days of collaborative learning, connection, conversation and music.
One of the ongoing conversations in Athena Village is: What does it mean to live unapologetically in life and in business? What can we do to own our goals and dreams unapologetically?
We asked ourselves this question and now, we're inviting you to listen in, learn and join the conversation.
Gather and explore with like-spirited women in a collaborative environment for 3 days of learning, connection, conversation and music! And walk away with actionable steps to living unapologetically on your own terms.
REGISTER FOR THE CONFERENCE TO RECEIVE FREE ATHENA VILLAGE MEMBERSHIP THROUGH MAY 6. If you've been curious about what it's like to be in a collaborative community, registrants to the conference receive complimentary membership through Friday, May 6.

Keynote: The Seeds You Plant, 
Pamela Slim, author, The Widest Net
Athena Village member, Pamela Slim, is the author of The Widest Net: Unlock Untapped Markets and Discover New Customers Right in Front of You, winner of the Porchlight Business Book Award 2021 for best Sales and Marketing Book of the Year. Pam has long been committed to building community. Her previous books include Body of Work and Escape from Cubicle Nation.
PRICE
FREE to Attend Live | Village Members have lifetime access to materials and videos.
Click here to register on Eventbrite
SCHEDULE
We've designed this interactive conference to give attendees ample breaks and connection time.
Thank you for registering for The Unapologetic Woman Conference!
NOTE: Check your email for announcements and event reminders with links
SCHEDULE
Tuesday, May 3, 2 pm ET | 11 am PT: Opening Reception (1 hour)
You're invited to join us for an informal gathering on May 3 with some of the Athena Village Collective members to talk about what living an unapologetic life means. Bring your favorite beverage!
Wednesday, May 4 : Workshops and Panel
(Workshops are 45 minutes each)
11 am ET | 8 am PT (30 min)

Opening Remarks from Kelly Pratt, Founder, Athena Village

11:30 am ET | 8:30 am PT (1 hour)

KEYNOTE: The Seeds You Plant, Pamela Slim

12:30 pm ET | 9:30 am PT (45 min)

Know Your Worth: Owning Your Value from Chantay Jennings, Virtual Partners Plus

1:45 pm ET | 10:45 pm PT (45 min)

Break | OPTIONAL: conversation in the conference café

2:45 pm ET | 11:45 pm PT (45 min)

What's Your North Star as a Business Leader? from Barbara Zuleger, Performance Partners

3:45 pm ET | 12:45 pm PT (45 min)

Celebrating YOU: Standing in Your Power from Rachelle Niemann

4:45 pm ET | 1:45 pm PT (45 min)

The Unapologetic Life Panel, facilitated by Devon McGuinness, Beth Riegger, Susan Brauer

5:45 pm ET | 2:45 pm PT (45 min)

Reflection and Virtual Reiki Chill Session with Rachelle Niemann + Sharon Payne, Reiki Master
Thursday, May 5, 2 pm ET | 11 am PT: Closing Reception (1 hour), hosted by Athena Village Founder, Kelly Pratt, and co-creator and chief listener, joy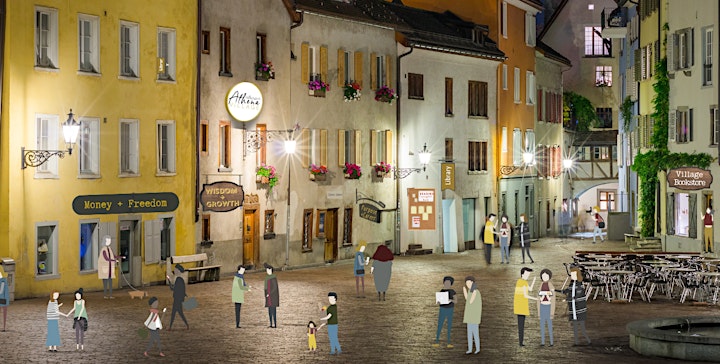 About Athena Village
Athena Village is a dynamic, online community for like-valued women who seek to connect and collaborate in the fullness of who they are. Rather than compartmentalizing ourselves into parts, Athena Village recognizes and celebrates women in various roles we play, and the hats we wear, while acknowledging and respecting the rhythms and flow of the realities of life.
Whether you are a healer, teacher, coach, artist, entrepreneur, mother, or all of the above and more, we welcome you! It's community designed by community, with members launching interest-based groups, developing courses and offers to test in a supportive environment, and collaborating with one another.